All Zipline Logistics' customers receive access to our proprietary shipper intelligence tool, KANOPI. Valuable to the C-suite, sales teams, and transportation departments alike, KANOPI automatically pulls, evaluates, and presents shipment data for proactive management of key success metrics. No more digging through spreadsheets or wasting hours running complicated equations to determine the health of your supply chain.
Shippers can log in at any time to see key performance indicators (KPIs) and run evaluations, or Zipline Logistics' solution consultants can provide timely reports and run queries based on individual customer goals. With Zipline Logistics' customizable data program, shippers gain transparency into logistics spend and performance and can more easily uncover answers to complicated supply chain questions, putting solutions into action.
Example questions KANOPI has answered for Zipline Logistics' customers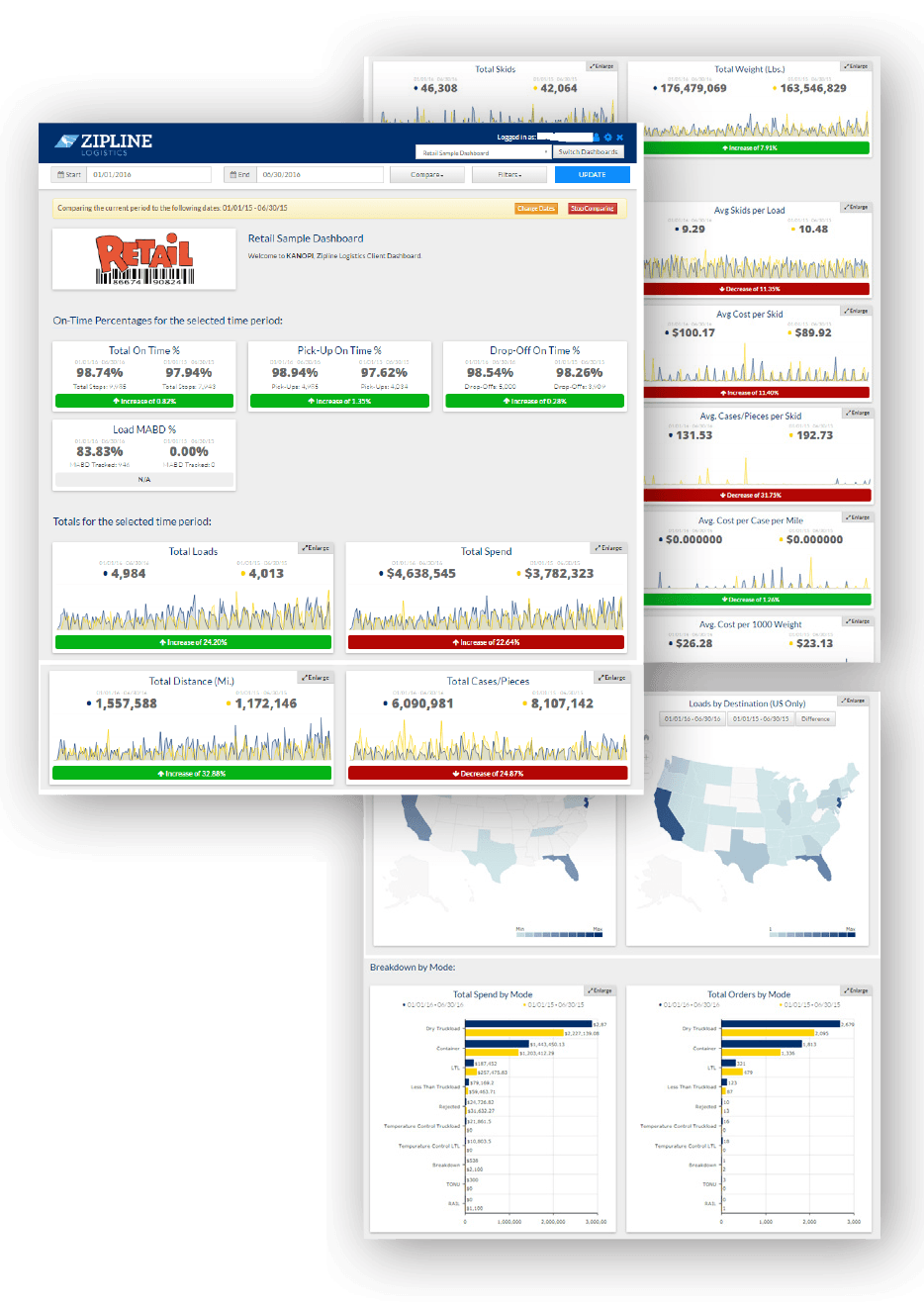 If routinely shipping out of network, how is profit margin impacted?
Do current minimum order standards make economic sense?
What does it cost when a customer is told they can have product "just a couple of days early"?
Year-over-year, what changes have impacted transportation spend?
Which customers are costing the most, and why?
What can you see in KANOPI?
Retail-driven key performance indicators, such as Must Arrive by Date (MABD) compliance and on-time pickup and delivery rates
Percentages, averages, and totals for all imperative transportation metrics, such as, average cases/pieces per load, average cost per load, and average cost per mile
Breakdowns of top product destinations and origins by spend
Illustrative maps of your transportation footprint
What can you do with KANOPI?
Easily manipulate data to uncover actionable insights for improved logistics efficiencies and savings
Filter data by date, shipper, consignee, and mode
Leverage advanced filtering logic to isolate data and uncover opportunities
Quickly compare data over any date range
Seamlessly download graphs and data for use in presentations