About Zipline Logistics
Zipline Logistics is North America's first multimodal transportation provider to specialize exclusively in serving the retail and consumer products sectors. Founded in 2007, the company is renowned nationwide among retailers, distributions, and manufacturers for providing results-driven partnerships, unparalleled service, and cutting-edge data intelligence.
---
Our Values
Partnership
Integrity
Accountability
Communication
Education and Experience
---
A Better Way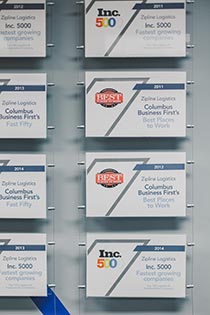 Zipline Logistics co-founders — Walter Lynch, Andrew Lynch, Edward (E.R.) Williams, and John (J.J.) Rodeheffer — launched their specialized 3PL with a crystal-clear purpose in mind. They knew there was a better way to handle freight transactions, and wanted to turn the antiquated 3PL service model on its head, no longer operating on a transactional level like other providers.
Zipline Logistics' business has never been about making profit gains on freight, but instead delivering a competitive price with the best possible service, on-time delivery, undamaged products, and enhanced seller relationships. The company exists to improve the lives of transportation professionals and build meaningful, long-term partnerships. This goal is what drives employee behavior every day.
Driven by a vision to provide great customer service and establish mutually beneficial relationships, Zipline Logistics' strategy has been confirmed again and again by fast, as well as consistent, growth. Zipline Logistics has been included in the Inc. 5000 list of fast-growth companies for six years in a row and is a five-time winner of Columbus Business First's Fast 50 list of high-growth companies in Central Ohio.
The typical model of a 3PL organization tends to focus on price and sell to anyone who will buy, and buy from anyone who will sell. We see that culture as detrimental to quality — and service-minded parties on both the client and carrier side of our market. To meet this demand, we have identified and partnered with the carriers that offer great service and quality equipment and focused our sales efforts on customers that absolutely demand top-tier service. It's truly a win-win partnership. Not only are we providing the top-tier reliability and service that we initially set out to create, but our clients have also expressed to us that we represent them well and carry their brand's integrity through their supply chain from shipper to final destination. Every delivery acts as an affirmation of our clients' commitment to quality.